Workforce Resources
LeadingAge Ohio President/CEO Search
In early September 2021 the LeadingAge Ohio Board of Directors announced the creation of a search committee to guide a state and national search for the successor of its current President/CEO Kathryn Brod. The committee's work has commenced with launching an RFP to select a search firm to assist in finding a successor.
LeadingAge Ohio Job Placement Support
In light of the current COVID-19 situation, LeadingAge Ohio is developing a clearinghouse to match potential staff with member communities. We will be sharing information between aging services providers in need of assistance and individuals in need of employment.
All skills and abilities are needed including food service, housekeeping, running errands, transportation, and other licensed positions. To those who don't have licensure or certification to work in long term care: Emergency rules will be in place for individuals to work as direct care staff during this time if that would be a position of interest.

If you are in need of employment, there is a need for you!
Please complete the form below and your information will be shared directly with providers in your geographical area. Thank you for your willingness to serve the aging community in Ohio!
Careers in Aging Week 2021 Recap
LeadingAge Ohio partnered with our national affiliate, LeadingAge, as well as the Gerontological Society of America, AHCA/NCAL, and Argentum on 'Careers in Aging Week' next week April 18-24,2021. Careers in Aging Week brought awareness to the numerous career opportunities available in long-term care and aging services, and celebrated caregivers for their heroic efforts.
According to the Governor's Office of Workforce Transformation, Ohio's top three jobs all serve elders within the aging services fields (Home Health Aides, Registered Nurses, and Personal and Home Care Aides). While job fairs and site visits continue to be challenging, we continue to honor the heroic individuals who work in this field. LeadingAge continues to connect individuals in Ohio to jobs assisting elders through its https://careers.leadingage.org/ webpage.
LeadingAge Ohio was able to encourage numerous state officials to participate in Careers in Aging Week 2021, including Governor Mike DeWine and Lt. Governor Jon Husted. Director Ursel McElroy and the Ohio Department of Aging also joined the week-long celebration.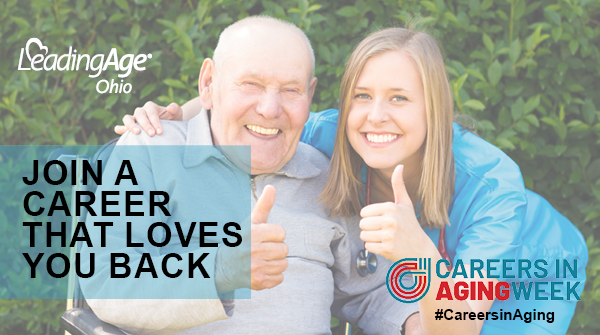 Careers in the midst of COVID
LeadingAge Ohio member United Church Homes prepared a special video documentary as a tribute of gratitude for their team members' resilience. It is also a very poignant view into a year in the life of a United Church Homes employee, as told in their own heartfelt words.
In the words of President/CEO Rev. Kenneth Daniel: It serves as a reminder of how far we have come in just one year, and how proud we are to employ some of the best and most passionate caregivers in senior living.
Watch the video here: https://www.youtube.com/watch?v=i8ApR-hciGg
UST: Workforce Solutions
for Nonprofits



LeadingAge Ohio has partnered with UST since 2004 to help our members better manage their unemployment claims, ensure HR compliance and streamline day-to-day operations.
Providing nonprofits with workforce solutions that reduce costs and strengthen their missions, UST provides its members exclusive access to the following services:
Live HR Hotline Staffed by Certified Experts
300+ Virtual Employee Training Courses
Thousands of Downloadable HR Templates
Online Claims Dashboard and Reporting
State-Specific Unemployment Claims Advice
Unemployment Hearing Representation
Award-Winning Outplacement Services
Whether your primary focus is to protect your assets, to ensure compliance with the latest state regulations, to reduce unemployment costs or to simply allocate more time and money to your key mission initiatives, UST has a solution for you. If your organization has 10+ employees, contact a dedicated UST Workforce Consultant at 888-249-4788 or get a free UST Program Evaluation today.
To access all of the latest UST content—exclusively for 501(c)(3) leaders—in one central location, please visit the NEW Content Library. This library houses all of UST's most popular nonprofit resources, including:
Nonprofit Toolkits
Educational eBooks
Employer Guides
On-Demand Webinars
Sector Research
With this content library, UST hopes to continue to serve as your nonprofit's go-to resource for the latest leadership strategies and HR best practices—providing you the tools that you need to ensure compliance, streamline claims management processes, navigate COVID-19 regulations and maximize your employees' bandwidth. If you have any questions, please don't hesitate to reach out to UST at info@chooseust.org.
To help nonprofit employers address (and avoid) future UI risks, UST has compiled its top resources to create the 2020 Employer Risk Management Toolkit.
Why not take a UST member benefit for a test drive?
Sign up for a FREE 60-Day Trial of UST HR Workplace, powered by ThinkHR. Check out the online employee handbook builder, state-specific legal updates or even get your toughest HR questions answered by a live HR expert. LeadingAge members can receive the HR Workplace exclusively for just $75/month (regularly $95/month) or free with UST membership.
Need more information?
Sign up for UST's eNewsletter to get invitations to nonprofit-only webinars, how-to guides, eBooks and sector research.
Websites
The center focuses on workforce resources for the aging services field providing promising practices, ideas for key partnerships, tools to calculate turnover, member testimonials, podcasts, policy news, and more. LeadingAge Ohio is featured in the Center for our work with the Employer of Choice initiative and Front Line Supervisor Training.
Employee Support Tools Available
As long term services and supports around the state struggle with workforce shortages and retention, aging services providers can benefit greatly from connecting with Employer Resource Network and United Way programs to support their employees in non-work related ways.
LeadingAge Ohio members have access to an Employee Resource Network toolkit, as well as an upcoming United Way employee support webinar. Find out more here.
Reports
LeadingAge Ohio working in collaboration with other associations (OASC, OHCA, OALA and OCHCH) joined together to conduct a survey focused on key workforce issues. Recruitment and retention of direct care workers are top concerns for LeadingAge Ohio's members. Consistent reporting of staff vacancy rates and ongoing monitoring of the challenges to fill these key positions are hoped to strengthen efforts to bring the growing workforce crisis to the attention of policy makers, bolster support for improved Medicaid reimbursement to increase wages and benefits, and advance funding for training and scholarship options for persons interested in care-giving careers. The results of the survey are available in the link above.
---
Whitepaper
Retaining new hires is a struggle for many senior care providers. This revolving door is frustrating, expensive and can negatively impact resident care and service. So, what's the secret to keeping new hires? Find out by reading this complete guide of onboarding and engagement tips to boost retention during the first 90 days of employment.
This guide will help you:
Expose the costs of a limited onboarding program
Boost employee retention with six must-have engagement tactics
Discover three surveys to help drive retention
The whitepaper offers advice and guidance for all hiring managers in senior care, not just human resources. Uncover real strategies for stronger onboarding today! Download here.
*Special thanks to On-Shift, LeadingAge Silver Partner, for sharing this whitepaper to help senior living professionals help new staff adapt to a new workplace.
Workforce Crisis: Data/Statistics
---
Workforce Tools
Workforce Cost Calculator
Need help in figuring out the cost of your turnover? Use this calculator to figure out the cost of your turnover -- download and do in Excel.
Helpful Background Information:
Rule of thumb: the cost of replacing any employee is 25% of the salary amount
Average turnover for home care agencies is between 40-60%
Average turnover in nursing home for certified nursing assistants is between 40-70%
Minimum direct cost of replacing a direct care workers is $2,500
Indirect costs are individual to each organization, but include advertising, training, temporary help, lost productivity, etc.
Example: An organization that averages 40 terminations per year is spending at least $100,000 (40 x $2,500= $100,000)
Personal Care Attendant Competency Development Guide
This guide is designed to help members examine how personal care attendants work in their communities -- and to equip workers themselves with the skills they need to be successful. The guide has descriptions and check lists of the skills, knowledge and behaviors – competencies - to help personal care attendants deliver effective supports and services across a variety of positions and LTSS settings. The guide also includes a detailed table that breaks down specific tasks associated with performing the job.
Mid-Level Manager Competency Development Guide
This guide is designed to help members examine how mid-level managers work in their communities -- and to equip workers themselves with the skills they need to be successful. The guide has descriptions and check lists of the skills, knowledge and behaviors – competencies - to help mid-level managers deliver effective supports and services across a variety of positions and LTSS settings. The guide also includes a detailed table that breaks down specific tasks associated with performing the job.
Community Checklist for Helping Front-Line Workers Improve their Skills and Build a Career
This tool helps employers take an objective look at their policies, practices, and processes to help them set up work-based learning and career paths for their front-line workers. Front-line workers generally have less than a bachelor's degree, earn approximately $40,000 a year, and include assistants and technicians such as nurse aides, housekeepers, home health aides, medical assistants, and licensed practical nurses.
In a mostly yes/no format, the survey helps communities decide if they have the capacity—or can build it—to help their direct-care workers learn new skills, provide quality care, and build a career.
Access the survey here.
Please contact Jennifer Craft Morgan at jmorgan39@gsu.edu for more information.
Have you listened to The Mentor's Voice?

Have you listened to LeadingAge's new podcast, The Mentor's Voice? Published twice a month, on Tuesdays, this podcast provides students and young professionals an opportunity to candidly learn from leaders In the field of aging. The goal is to disseminate wisdom and knowledge to emerging leaders and to inspire and inform their career journey.
Follow the podcast on LinkedIn, Instagram, and Facebook. Subscribe wherever you listen to podcasts!
---
Presentation Materials
High School Presentations
This ready-to-use Powerpoint can be used for short presentations to high school students to get them excited about the profession. The powerpoint includes an embedded video – also found below – along with suggested notes for the speaker. Play the powerpoint and print off the one-pager on the workforce crisis for an easy-to-use package for your presentation.
Doing Well by Doing Good - A Presentation for High School Students
Elementary School Presentations
LeadingAge Ohio's Careers That Love You Back program offers an opportunity to build relationships with local elementary schools.
Workforce Resources
Careers That Love You Back
Need Help?
Corey Markham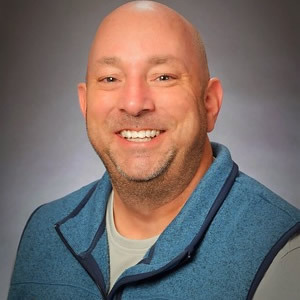 Director of Corporate Relations and Initiatives
614-545-9015
cmarkham@leadingageohio.org
Oversees database and meeting registry
Manages office technology systems
Oversees maintenance of office operations and production
Associate Membership/Partner Program staff liaison
Point of contact for Trade Show